As the 2nd event accompanying the launching of the book
"Cave"
,
we organized the talk show of the artist, Jun Tsunoda with Michiko Kitamura,
one of the most influential fashion stylists in Japan, and
Tomoo Gokita
, artist, on the 16th May at Aoyama Book Center, Tokyo.
Starting from the story how they met each other and commenting on
Jun Tsunoda's works with slideshow, in the talk, although they are working on
the different field of work, we could hear how those three share the same
approach towards their own work, and have been carrying out their own
original intention - it explained a lot why they keep standing in
the very front of the field.
We are so sure that this event became a fruitful opportunity for all the audience,
but above all, we all were overwhelmed by the energetic and sparkling power
Michiko Kitamura has!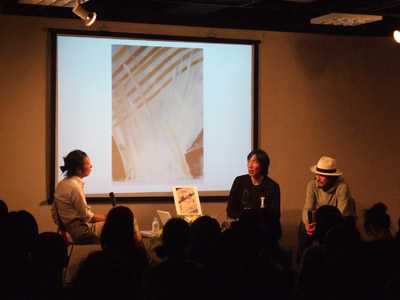 Moreover, we have just started to make the original T-shirt of "Cave"
available at
FOIL GALLERY
.
This hand made T-shirt by Jun Tsunoda is all unique, each has different print on it.
Each piece is editioned 1/1!
Please inquire to
FOIL GALLERY
for the available T-shirt.
This is a special limited-edition sale!