FOIL / FOIL GALLERY's 2010 has started with wonderful exhibition "murmur" with Kosuke Ichikawa's new body of works.
Although it looks just like black and white photograph when its reproduced,
Ichikawa's works are actually "incense painting" made by hand.
Using about 60 types of incense sticks to suit each work and its appropriate
temperature, thickness or marks, Ichikawa produces his works by gradually and
minutely burning the surface of the paper. The blackened part of the canvas
you see is actually the burnout (pigmented or holed) he made.
To our surprise, he does not write any draft to begin with, but finishes up with incense
directly in one spell - even without referencing to photographs and such,
but only tracing the picture of his own memory in mind!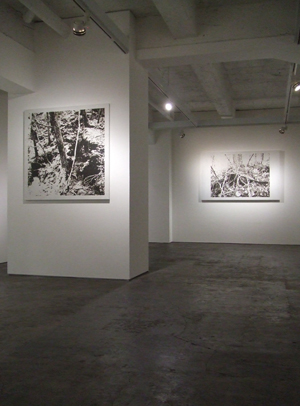 His exhibition is also reviewed at
artforum online
.
Kosuke Ichikawa "murmur"
15 January - 6 February, 2010
12:00 - 19:00 / Closed on Sunday